AHH!-MAZING GHOST PHOTOS!
Ghost Photography is a fascinating subject and becomes a passion for those who like to try to capture a ghost or spirit energy. Many hours of waiting for that great moment when a ghost or orb shows up has been spent with lots of patience. Out of some 3,000 photos I have shot on film and digital, only a handful can be used to say or seem to have ghosts or orbs have been photgraphed. It's all a trial and error thing and We believe these photos accurately represent ghosts caught on film. We can't say it's definitely 100% since it will cause speculation and doubt with many people. But we cannot explain who or what it is we have photographed!.
We Do believe Ghosts exist, the hardest thing is to Prove it is Real-Happy Hauntings!-Patrick Cross - Paranormal Investigator, One of Canada's Leading Ghost Researchers
---
GHOST PHOTOS From Ghost Tours and Investigations
+All ghost photos, images shown here are copyright protected 1999-2019 and photos appeared in books, magazines, newspapers. TV, social media, facebook, instagram, gettyimages.
If you wish to use any photos you must have written permission,must be authorized to use them.No unauthorized reproduction. Contact: ghostly1@bell.net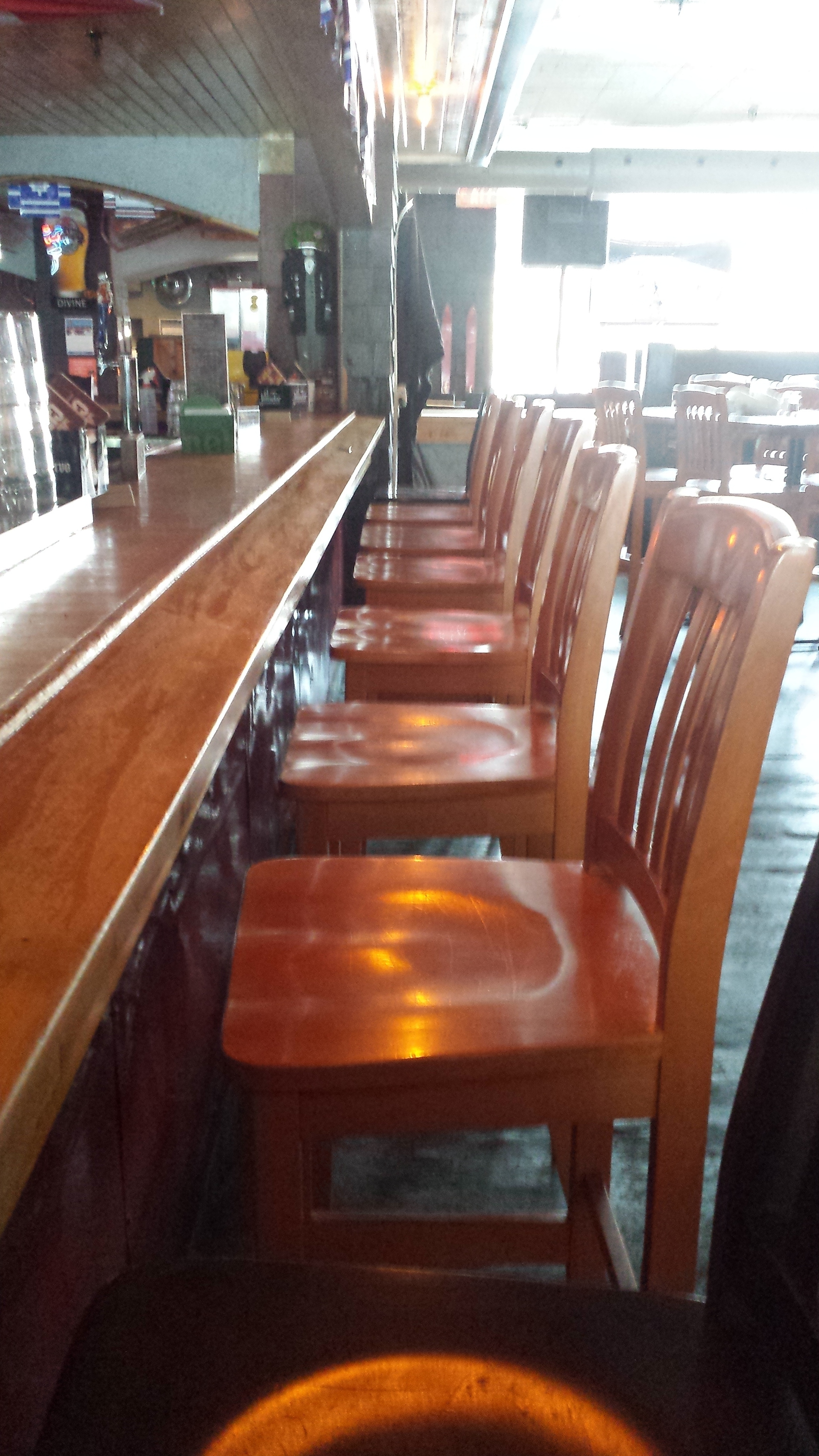 Very Creepy image of the Thin Man apparition,No head long fingers,half a body-going through a wall (caught on mobile phone-Emma's Back Porch Bar(photo:Patrick Cross October 2016)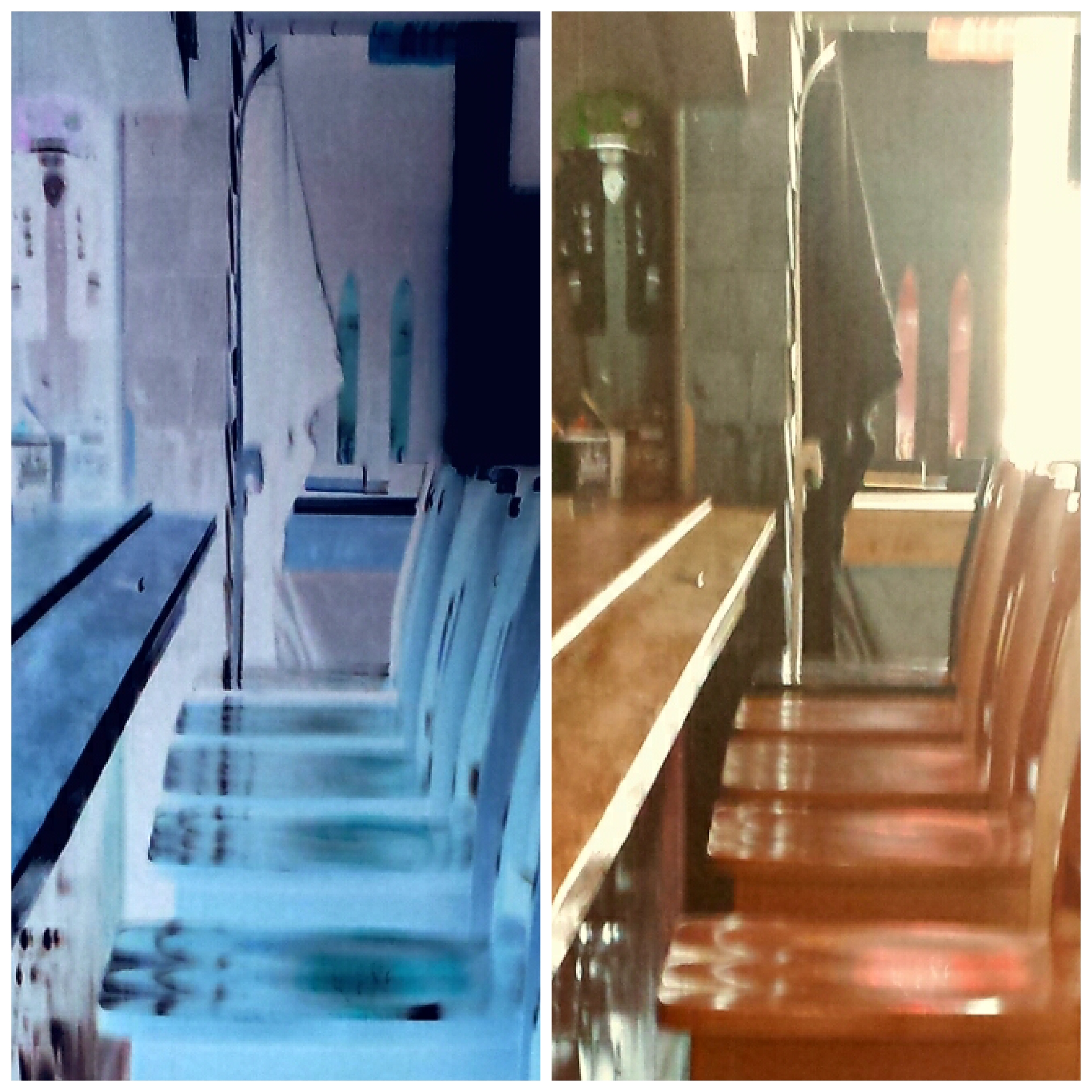 Close-up and Reverse Negative of the Thin Man (on left) showing body,long arms,legs No Head!(photo:Patrick Cross-2016)
Ghost of Emma caught at the Bar inside Emma's Back Porch Restaurant.white and black appaaition- No one was there when this photo taken, seems to have shoes but a different body(photo:Patrick Cross-mobilephone August 2014)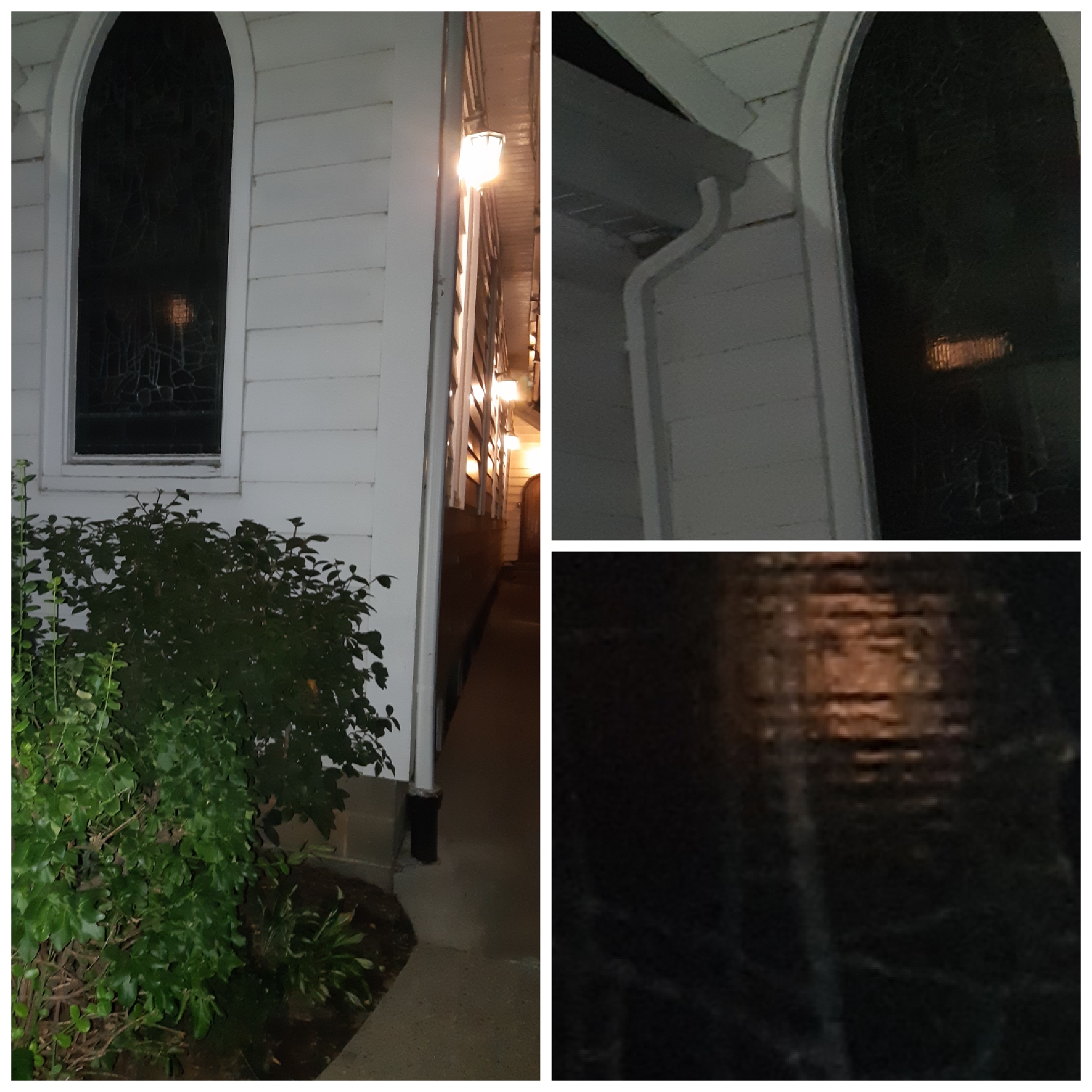 Recent Photo of a Distorted Face in window at St.Lukes Church, caught on the Ghost Walk(photo:Patrick Cross August 2018)
Ghost with Your Coffee?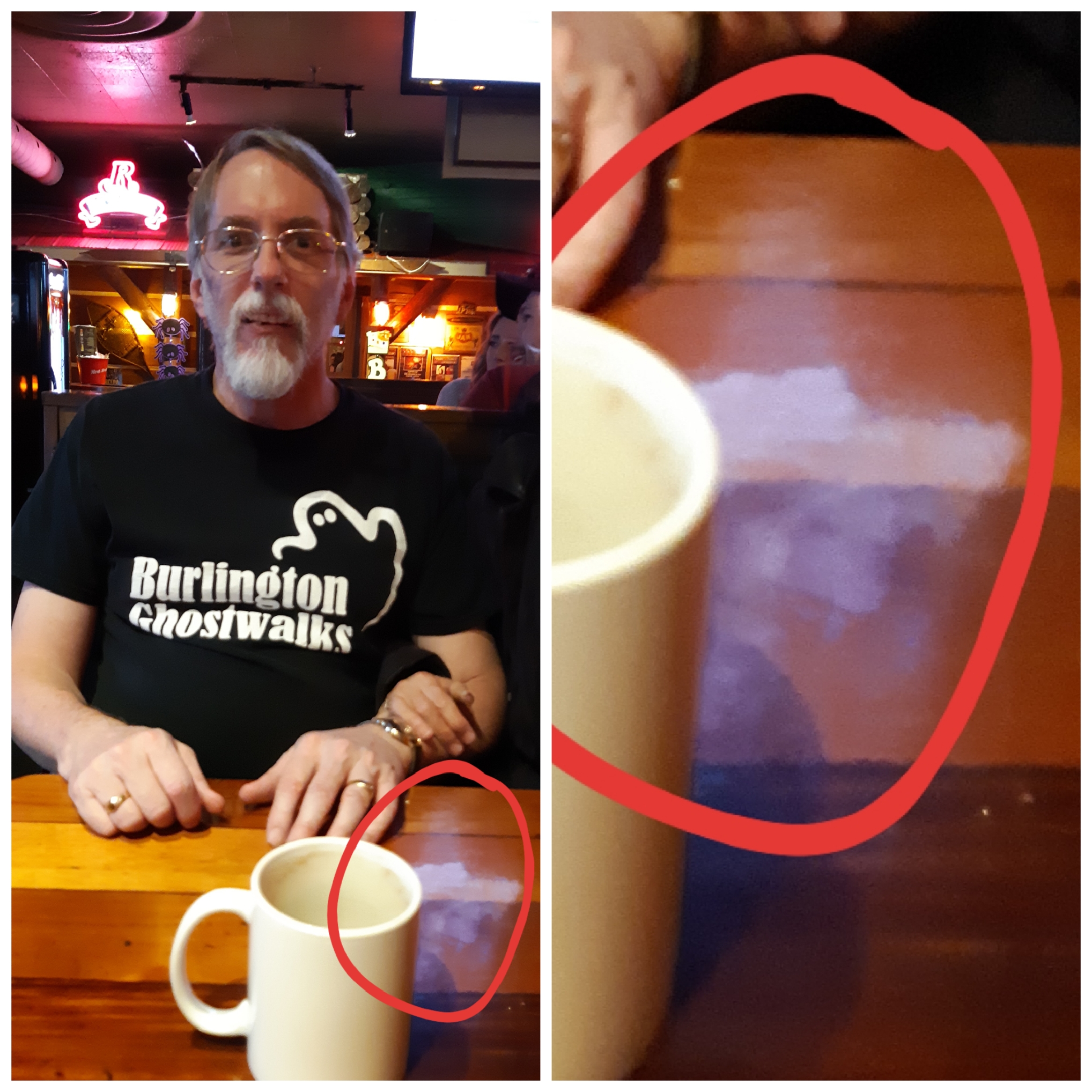 Very cool! Ghost photo caught after the ghost walks while siiting down with Brian Tour Guide having a coffee. Ghost Mist and a small image appears by the coffee cup at Emma's Back Porch! This was caught by accident, I saw some mist floating around the table and just shot some photos! Wow! Great image of what looks a woman holding a baby in mist!(photo:Patrick Cross-October 2018)
Ghost of Terry Boyle? - Author "Haunted Ontario Books"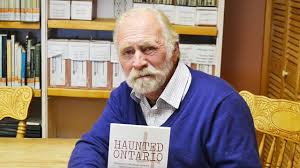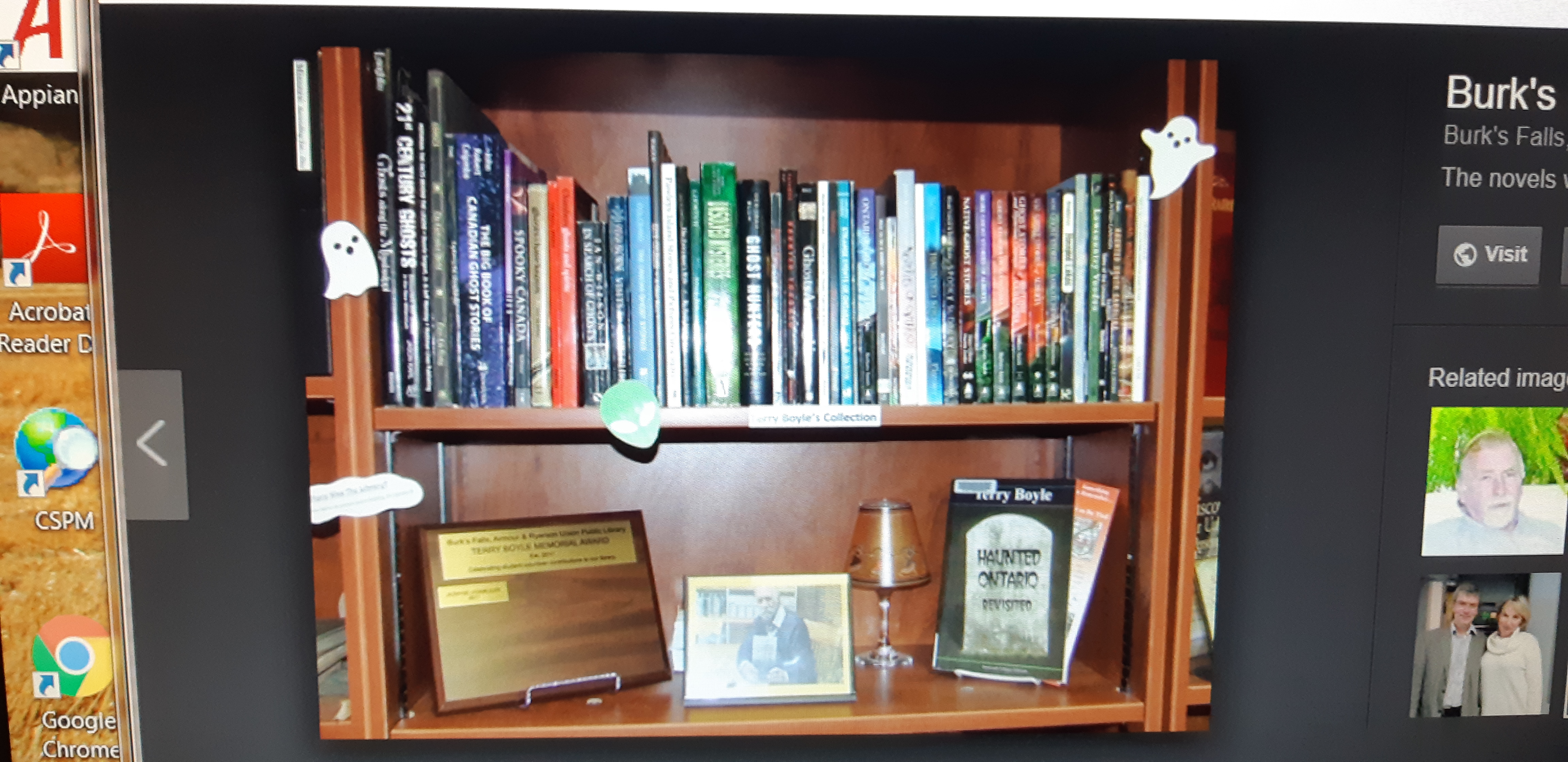 In memory of Terry Boyle who died July 11, 2016, He was 63.This is his books, a memorium photo and plaque of Terry's book case and I caught and noticed this ghost image. Looks like the ghost of Terry hovering around the books came back to visit. See the ghost image above on top photo-reverse negative of an outline of a face! The original ghost mist image is around the regular book photo. For many years Terry wrote about and explored ghosts, now he is a ghost and a part of Canadian history! He will forever be remembered in spirit.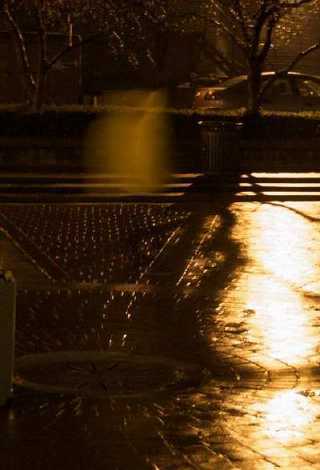 Apparation of a boy appears Coming Out Of A Vortex with one foot stepping into our reality dimension, the other foot in the vortex! Burlington City Hall(submitted by guest on ghostwalk October 2010)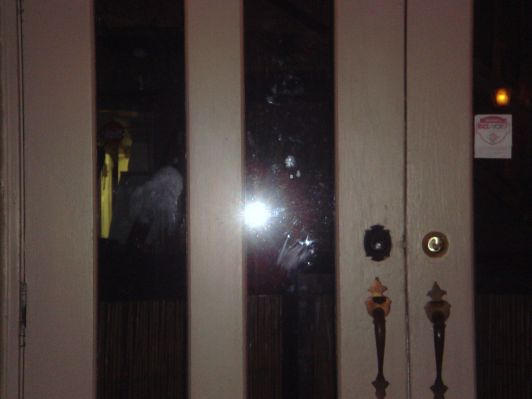 Ghost Images and Ghostly Children's Hands appearing inside on the door of the Rayhoon Restaurant in Village Square-closed at the time of photo, Burlington 2010.(photo: Patrick Cross)
Famous Emma's Back Porch - Burlington, Ontario, Canada
Ghostly Guest Walking Down The Stairs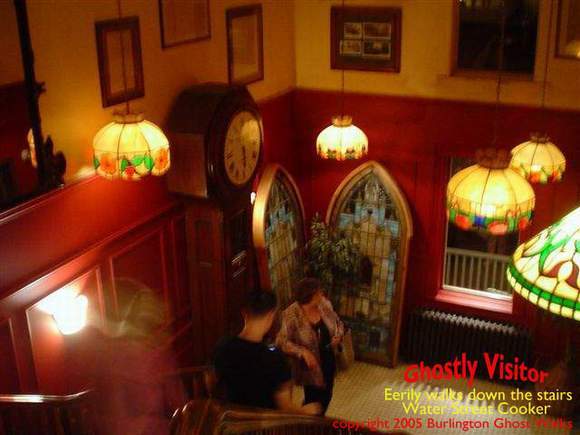 Eeerie ghost guest walks down the stairs of Emma's Back Porch-Water Street Cooker.Notice the faded image of a woman on the left top stairs, walking down the stairs. She has a victorian style yellow bonnet,a pink shawl, pink dress and arm is by her side She is transparent. This photo is the Best we have captured after 4 years of trying to film and photograph ghosts at Emma's.Photo Taken on Burlington Ghost Walk: Dawn Spybey-July 15, 2005.(Photos copyright:2005-2020 Patrick Cross)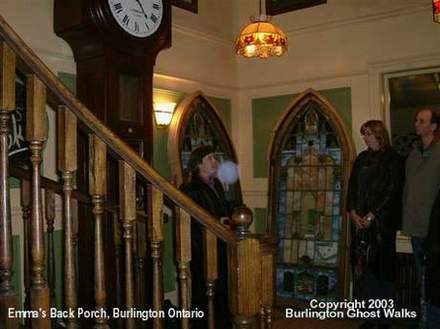 Patrick being kissed by a ghost? or is it the ghost of Emma at the bottom of the stairs of Water Street Cooker-Emma's Back Porch(copyright Burlington Ghost Walks October,2003)
Creepy Canada TV Series - Emma's Back Porch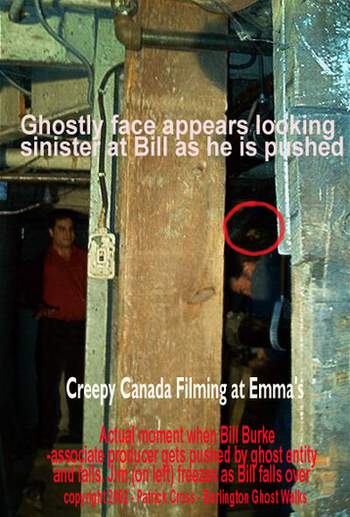 While filming Creepy Canada CTV Series at Emma's, within 10 minutes in the basement area, a ghost attacks Bill Burke-associate producer and pushes him into a table, falling with the TV camera to the floor. You can see a sinister face appear just as Jim ( on left) freezes as he hears crashing sound as Bill falls. Captured live on location by Patrick photographing from the basement entrance Emma's for Creepy Canada Series and CTV Travel. This photo and scene was never shown on TV
Close up of large ghost orb on stairs at front entrance of Water Street Cooker - Emma's Back Porch, Burlington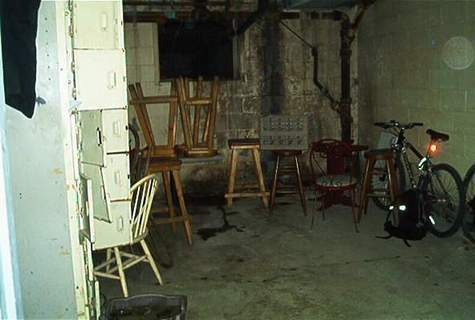 Rare photo of Emma's Basement with ghost orbs appearing around the old tunnel entrances that leads underground and to the lake. Very Creepy! Also notice an apparition of a boy or child appearing at the tunnel entrance.(photo:Patrick Cross 2004)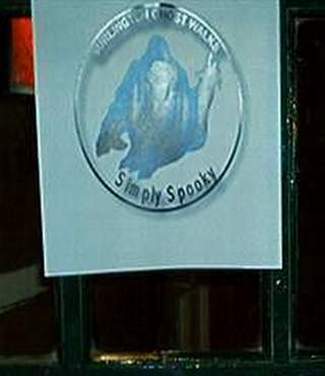 This is our Ghost logo posted on one of the doors going into the kitchen. I caught this amazing photo of what appears is ghost of emma in front of and imitating the flying logo!(photo:Patrick Cross 2008)
Mirrors That Retain Ghosts!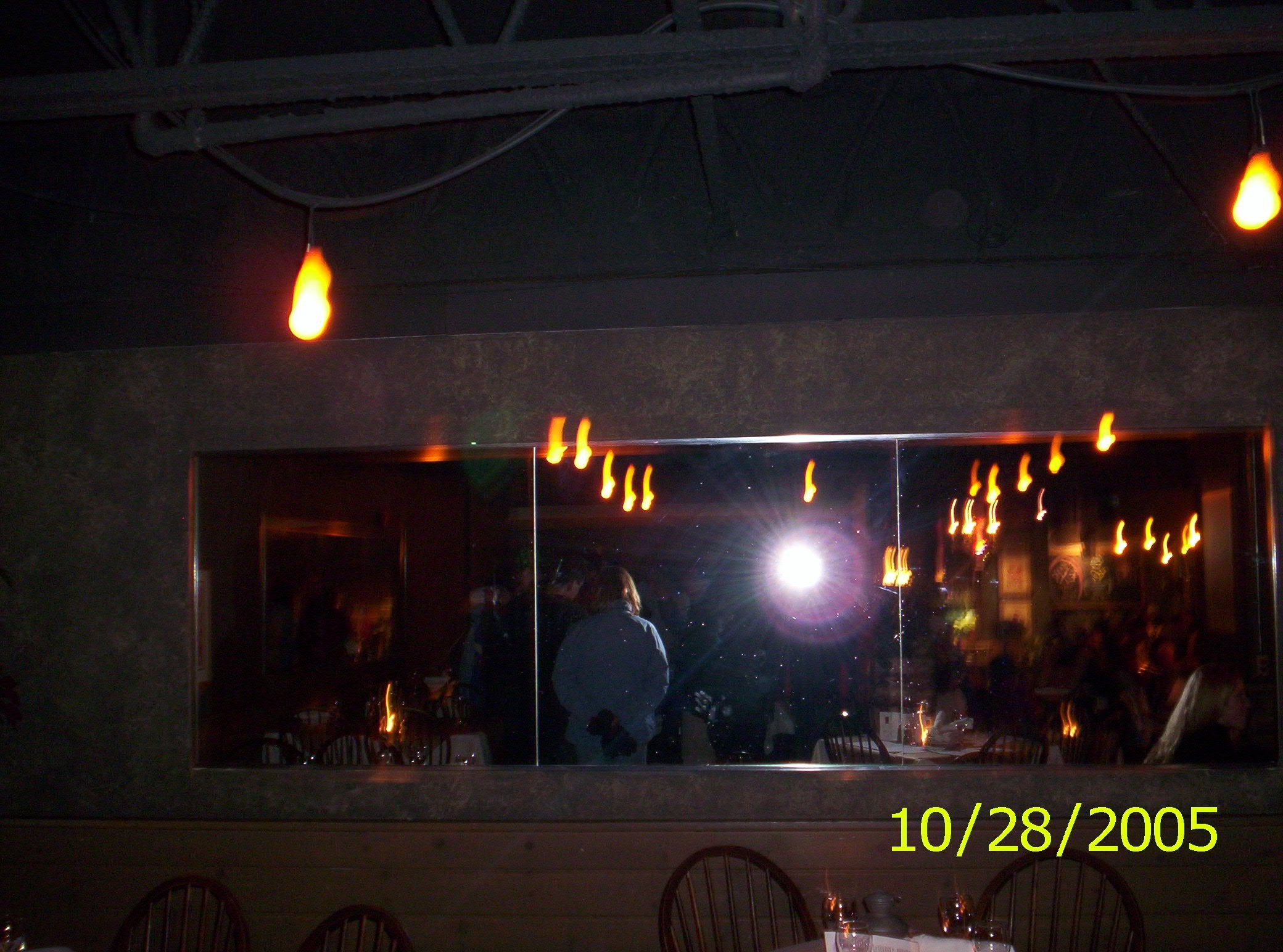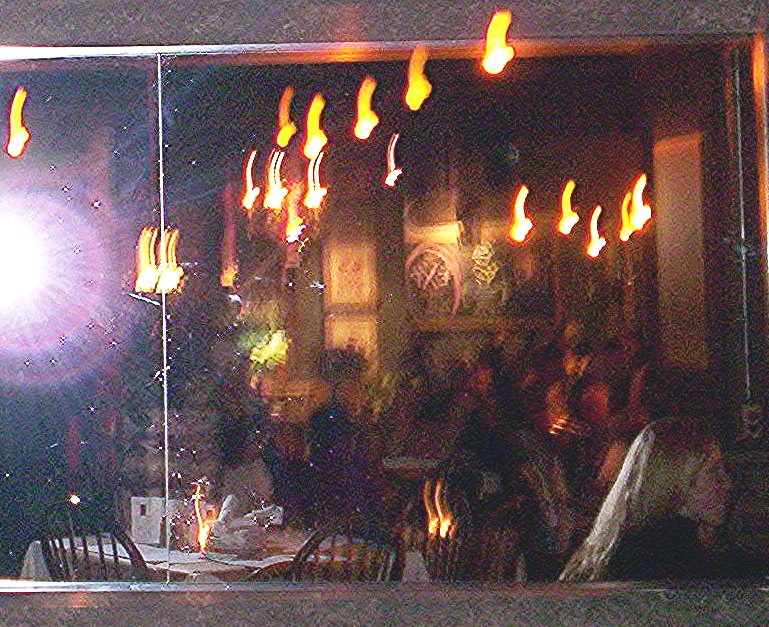 Incredible!! The original mirrors in the upstairs dining area of the Water Street Cooker that at times have images of people and scenes from another time period inside the mirror.On left is original photo with present time period and then revealing on the right a victorian time period! captured in the mirror! Enlarged photo-You can see outline images of a woman dressed in victorian period clothing sitting other women sitting in victorian dresses, pictures on a wall different time scene from the actual restaurant.In the front right in the mirror see a woman from this time period 2005.(Photo:Patrick Cross 2005) The mirrors are known to retain images from the early 1930's.Witnesses have seen men smoking cigars, different bar scenes and people dressed in period clothing in a different dining room!
The Witchy Well by the Lake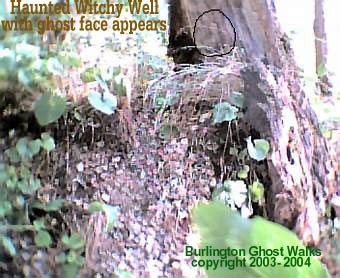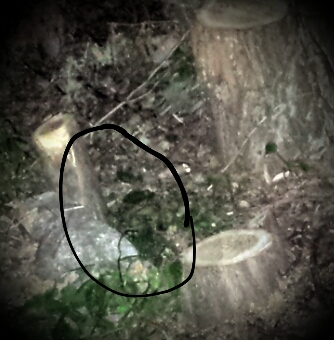 The"Green Appararition" (bottom photo) of Mary the witch was photographed August 23, 2015. After 5 years she now appears again at the torn down Riviera Hotel site being cleared and under construction of a new high-rise condos.She's not happy as she is ready to attack all those who are destroying her grave.The Original 2004 photo (top photo)of the witchy well with face appears by the tree - believed to be the ghost of Mary who was said to be a Witch and was killed by the local townspeople for practicing witch craft in 1929. She was thrown down the well at this spot by the lake and left to die. People heard her screams for revenge and now workers at the construction site have experienced equipment failures, voices, yelling, becoming sick with putrid rotting smells.This was a popular spot on our ghost tours for 3 years with people fainting, getting sick, seeing glowing red eyes, hearing hissing and growling sounds.The well was made to look like a fake tree and was covered up.The mystery was never solved why the well was covered upand abandoned and all information disappeared from history books in Burlington. It has recently been filled in, but the ghostly presence of Mary is still there haunting the area for revenge. In the past, people had tried to dig up the well and performed demonic satanic rituals here in 2011.There is still a very evil presence with rotting smells lurking here.We will see what happens when the condo is built and the demon witch becomes active again?
---
Haunted Statue of WORLD WAR 1 Soldier, contains the Ghost of ALFRED EDWARD JOHNSON who died in the Battle of Dieppe, France August 1942.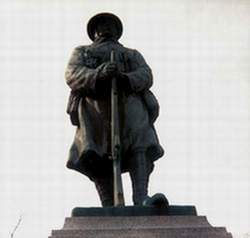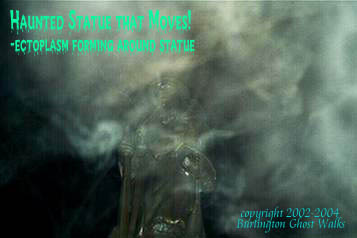 This is the Famous Haunted Statue of a World War 1 Bronze Soldier at Burlington City Hall, that has been seen to move his hands on the rifle, See the photos below.Notice the rifle moving in the second photo on right. The camera was on a tripod, capturing this incredible ghostly movement.(photos:Patrick Cross copyright November 2002-2018)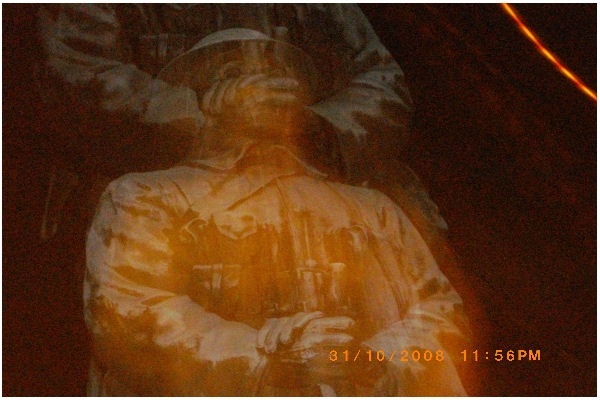 Hands and fingers Actually Seen Moving Off the rifle with orange mist(photo:Brian Wieland-October 31, 2008)