This is the Famous Haunted Statue of a World War 1 Soldier at Burlington City Hall, that has been seen to move his hands on the rifle, Click the photos to read this amazing story.(photos by Patrick Cross-copyright November 2002-2017) Notice the rifle moving in the second photo! The camera was on a tripod, capturing this amazing paranormal movement activity.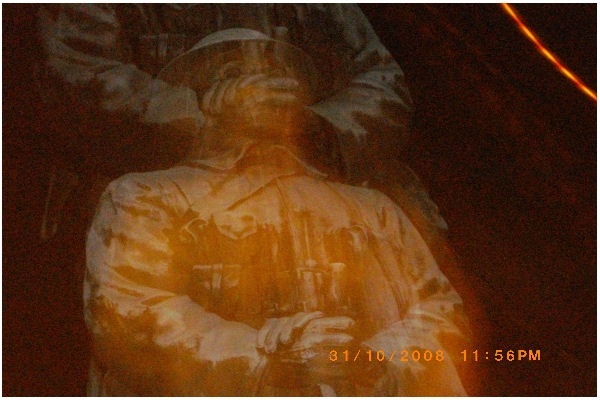 Hands and fingers moving from the rifle with orange mist-photo submitted - October 31, 2008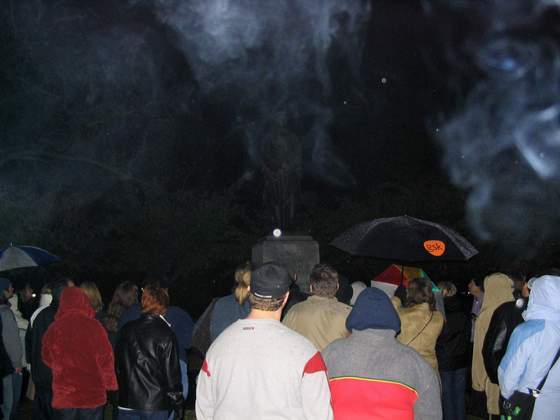 Haunted Statue at City Hall, Burlington with more amazing ghost fumes swirling around forming ghost images with glowing orb on the statue-October 2003.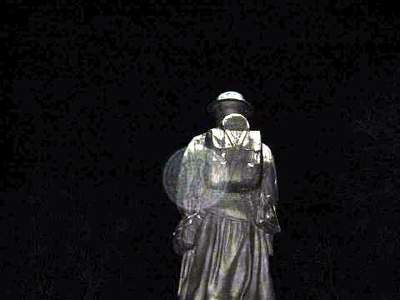 Nice very clear orb appears on the back of Statue - photo by Michelle Desrochers - November 2005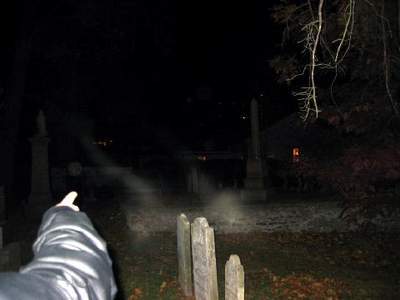 Ghost mist in a Burlington Cemetery rising up! On cue while pointing to it. Very Nicely Haunted!(photo by Michelle Desrochers-copyright 2005-2007)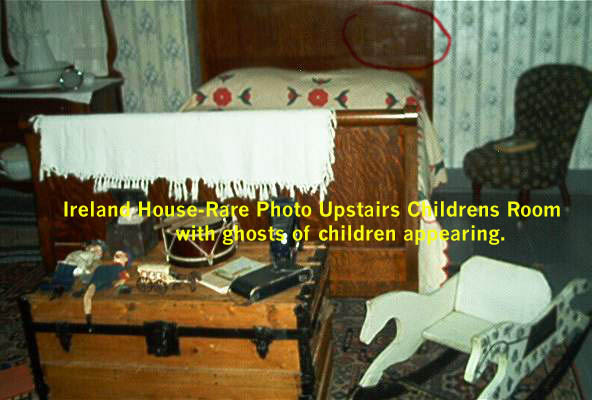 A Rare Photo of Ireland House in the upstairs haunted "grey room" where children ghosts appear and the toys move around and are found in different locations. See the children's faces circled on the wall.(photo copyright-Patrick Cross-October 2005)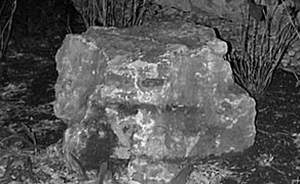 Skeleton Rock, natural formed eerie skeleton face in a rock waits for you along the ghost walks has been seen with orbs and lights coming off it.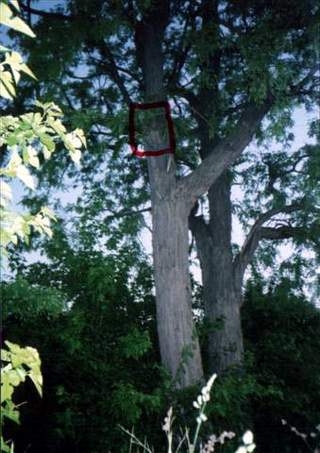 The 2004 photo of a face in the tree of what we believe was the man who was hanged and killed for drug money at the old Riviera Hotel-on Lakeshore in Burlington where there was murders, suicides and drug killings now torn down for new condos to take it's place. it's interesting that this hotel was a dive yet it is being replaced now with 2 to 5 million dollar condos being built.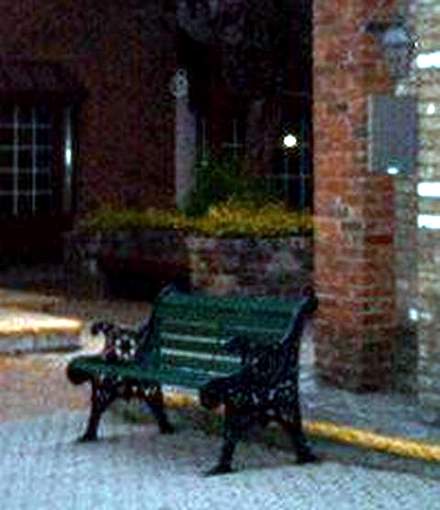 Finally...captured photo blown up of the children ghosts in Village Square..you can see several faces and images, one in the top middle, others by the bench and one coming out of the wall(photo by Patrick Cross-October 2006)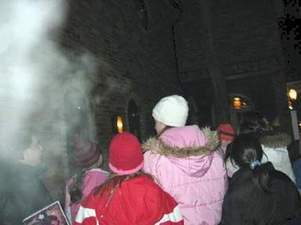 Mist on side of wall in Village Square with kid's ghost tour.You can see faces in the mist against the wall.

(photo by Michelle Desrochers - October 2007)
Ghostly mist forming, you can see the bottom right is an outline of a boy and girl sitting inside the Hermitage, Ancaster March 2006 (photo by Michelle Desrochers-copyright 2006-2007)
Butlers Burial Grounds - Niagara On The Lake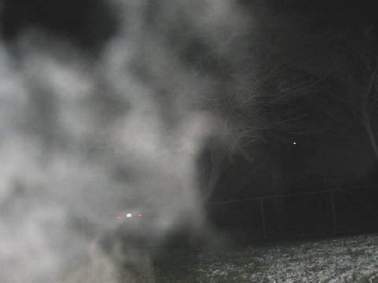 Mist from bottom of hill going up to the crypt which followed all around us as we investigated the area.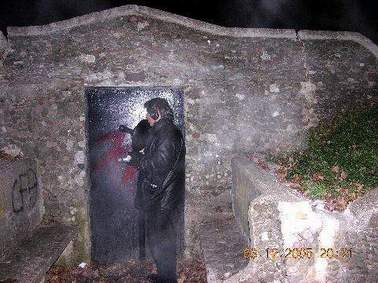 The original burial crypt where soldiers, sounds and British voices were heard coming from the inside- filmed on our investigations in 2005.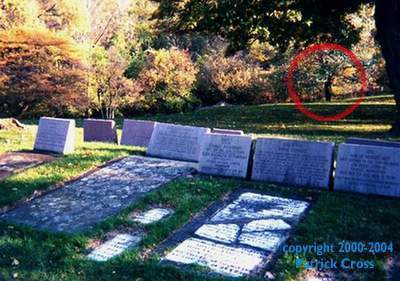 The ghost sentry soldier that appears all in black on top of the hill guarding the cemetery graves of Butlers Rangers and Colonel John Butler. Sadly,the crypt is now completely covered over and a chain locked fence is put up to keep people from getting in by the Town Of Niagara On The Lake. There is now a no trespassing sign. This was an amazing place to investigate with tons of ecto mist and ghost activity, now it's off limits so please respect the signs and the privacy of the burial grounds and cemetery.We do not promote trespassing in any way and you should get permission by the city. If you are caught trespassing you will be charged(photos of butlers sentry/cemetery copyright Patrick Cross-2005)
Demonology and Exorcisms Special TV Feature
Channel 1 News - Toronto Tonight News Hour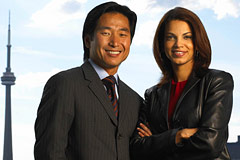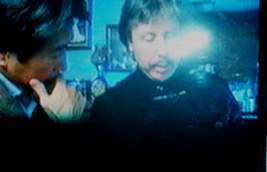 Patrick was featured with Ben Chin - Host for Channel 1 TV with the Catholic Church on a program dealing with demons, exorcisms - March 23, 2005. The show featured rare photos Patrick caught of demon entities and possessing a woman named Teressa in a haunted Lodge, Muskoka. It also talked about how to get rid of demons, devils and entities and instructions given to Patrick from the Catholic Church Diocese on How to Conduct Exorcisms and cast out demons. Demons and Entities has become a very popular subject again since we are now investigating and documenting new and very evil demon activity in a haunted infested house happening everyday somewhere in Ontario - November 2006 Note: Patrick no longer investigates or gets involved with Demon Activity, Exorcisms, Demon clearing of any kind since this is too dangerous and anyone can become possesed. Do Not Use Ouiji Boards, it will contact spirits you cannot get rid of!
A Demon entity caught on camera (below photo)in Patrick's apartment...Nice Demon, down boy! Photo captured of demon entity in Patrick's apartment, November 25-2006.(You can see red eyes glowing, fangs and it's huge! also see a woman in white, below the fangs in the photo!)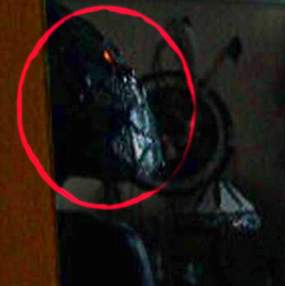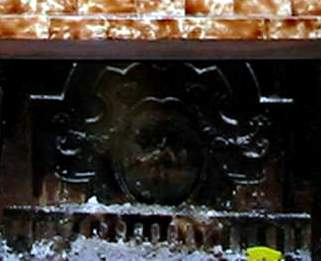 Ghostly Skeleton Face appears in the fireplace grid! Private residence with demonic activity going on, Muskoka - Decemebr 2006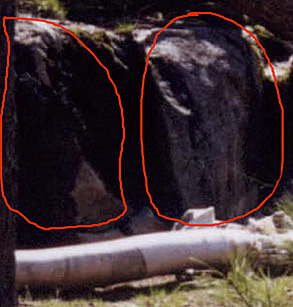 One of my best captured photos of a demon with horns coming out of a rock with a warlock or black sentinel figure on left side of rock coming out in broad daylight-shot in Port Severn, Ontario - photo by Patrick - October 2006
Apparitions on Ontario Street, Burlington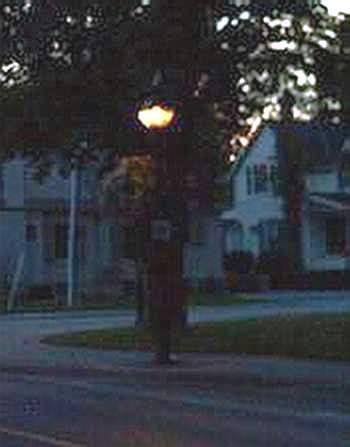 Apparitions and several ghost images appear on the corner on Ontario Street, Burlington. If you keep looking at the photo you can see several apparitions of ghosts and more images in the background from a different time period(photo-Patrick Cross-June 2005)
Possessed? Real Hauntings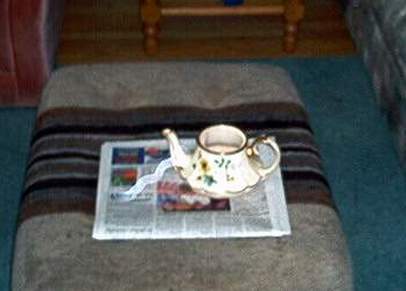 (photo by Patrick Cross - copyright 2004)
Be careful what you take home..it may be Haunted! This is an great example of an old tea pot found in a garage sale. When it was brought home to Patrick's house, it had ghost energy attached to it and an entity all around it. Right after this photo was shot, the tea pot was bathed in salt water and salt put inside it to contain any left over energy. Copper and basil leaves were also put inside the tea cup to stop energy from releasing itself again. (courtesy of Patrick Cross' book, "Canadian Haunted Possessions-True Accounts of Possessed Objects", copyright 2002-2011)
---
EXTREME HAUNTINGS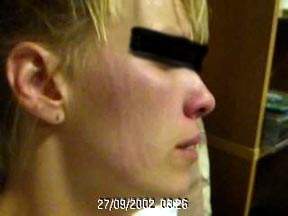 Woman's face being scratched and slapped by a ghost entity, private residence-Windsor,Ontario-2007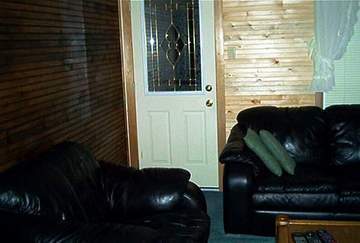 -Vortex photo Patrick Cross copyright 2004-2017 Vortex forming on left wall, same private residence where woman above was scratched and cut-Windsor, Ontario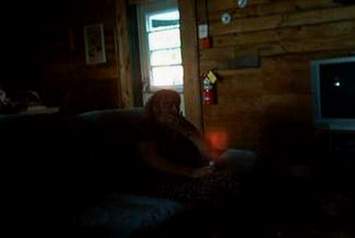 -posession photo Patrick Cross copyright 2004-2017 Red evil entity going up this woman's arm, and entering through her causing her to go into fits of panic and faints-Portage Lodge, Huntsville
---
It's Famous! The Tree with A Heart Beat!-As seen on CNN, CH TV Hamilton TV, CTV TV, Global TV News, Cogeco TV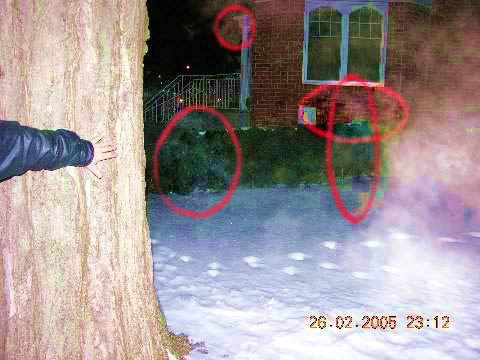 At the tree with a heartbeat faint heart beat pulses are felt from this very haunted tree. Eerie photo of several faces of children and an apparition of a child in the middle standing near the tree photo shot in February 2005 where ghosts are very active in freezing cold weather. People feel an actual heartbeat on the left side of the tree. We can't tell you the story or really where it is because that would give it away, but yes there was a car crash here where a man was killed and his life force was thrown into the tree. Most people on the tour have felt a coldness, hand becomes red, numb, sometimes you feel a faint heartbeat, other times a strong pounding heart beat! Psychics have verified this tree has lots of negative energy and some have passed out here and felt sick in the chest from the mass of energy here...It's Simply Spooky on the Ghost Walks!

Fantastic ghost orb finally captured-beside Tour Guide, Carrie as she felt her hair being pulled at the Poacher-the ghost is Mary-the waitress who appears playing pranks and cleaning tables as she did when she was alive.The ghost of Abigail appears in the mirror in the basement as seen by many of the staff. (photo by Patrick Cross, copyright March 2003-2017
+All photos copyright-protected 1997-2017 Patrick Cross and Michelle Desrochers. No Unathorized Reproduction without written permission or communication

---
Stay Haunted....To Be Continued

Click on the Hand...Back To Burlington Ghost Walks Official Page
Ghost Photo Page updated July 2017.Copyright Discovery Ghosts! Media.No unauthorised Reproduction without written permission ©Copyright-protected 2017.
Ghost Photos - ©Copyright 1990-2017 by Patrick Cross Publications / ©Copyright-protected 2001-2017 Burlington Ghost Walks and Burlington Ghost Researchers, Discovery Ghosts!, Ontario, Canada. Photos submitted courtesy of Michelle Desrochers credited, owned and ©Copyright 2005-2017. We welcome other submissions for photos but do not take any responsibility for ownership, licensing or payment for submissions of any kind imcluding Social Media.