The Haunted Emma's Back Porch, Burlington, Ontario-Canada
Official Ghost Site for Emma's Back Porch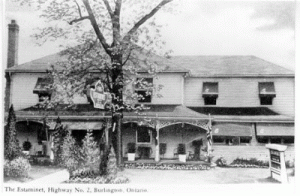 Click on the photo to go to Emma's Website and Menu.
Emma's Back Porch Restaurant and Water Street Cooker
It's Legendary...We made it Ghostly Famous!
Our home for Burlington Ghost Walks and Burlington Ghost Researchers since 2001 is Famous Emma's Back Porch.Celebrating 20 years.Emma's opened April 6th, 1992. and Water Street Cooker, 2084 Old Lakeshore Road, Burlington. We also do ghost seminars, media interviews and speaker events here. Emma's and Water Street Cooker is open 7 days a week for your dining pleasure. After dinner, take a stroll on one of our Historical Ghost Tours as advertised- featured in Burlington Lesiure Guide, Burlington, Burlington Lifestyle.com, Ontario Tourism, Toronto Star, Toronto Sun Globe and Mail News features.
The original Emma's pictured in photo above in the 1900's was known as the Estaminet Restaurant. Emma Byrens and her husband George started the restaurant in 1910. In 1943 Emma Byrens celebrated her 70th birthday at the Estaminet. Emma ran the well known establishment until it was sold. It has since changed hands several times including running as the Tree Top Restaurant, Sharky's On The Water up until 1992 when it became known as Water Street Cooker, Emma's Back Porch . This is the longest running restaurant in Ontario
Join us on the famous Burlington Ghost Walks of Emmas Back Porch as we talk Ghost Stories including many photos of ghost activity here.

Discovery Channel's CREEPY CANADA TV Series
Also Featured on CTV and OLN Network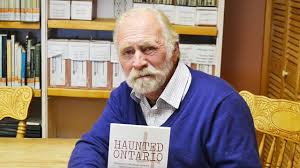 In Memory of Terry Boyle - Author, Historian, Teacher, TV Host for Creepy Canada Died July 11, 2016
Press Photo - Burks Falls News 2016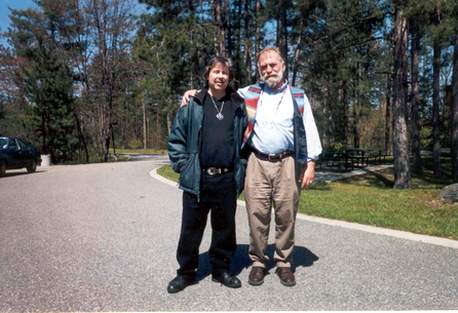 Press/Media Photo - Globe and Mail / Toronto Star
Author Terry Boyle and Researcher Patrick Cross shown here from the first Parry Sound Conference, May 2002 have researched and told the story on Emma's Back Porch as seen on the "Creepy Canada" TV. Patrick was featured in 4 episodes-Creepy Canada shows ran from 2002-July 2006.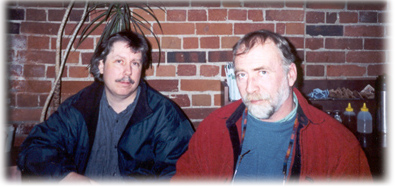 Press/Media Photo: Interview at Royal York Hotel-Toronto
Patrick being interviewed by Historian, Ghost Author, Terry Boyle, for stories in Terry's Book Released Marilyn of the French River and other Haunted Ontario Books published by Dundurn Publishing. Terry was interviewed on Patrick's "Ghosts Among Us Radio Show" broadcast on Night Search Radio Network USA,2002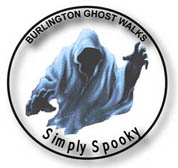 GHOST Investigation with SPACE ROAD ODYSSEY 2001 and CITY TV
Featured on SPACE IMAGINATION STATION-Ghost Hunter's Series
These are the actual photos taken in the basement of Emma's where we all witnessed with the Space camera crew ghost orbs, cold spots, temperature changes, seeing images and hearing voices, objects being moved, the ghost children of little Sarah and Robert playing down the basement and inside the restaurant.You might even see Emma herslf appear on the original staircase or the conceirge butler by the front entrance of the Water Street Cooker welcoming you to the Estaminet, meaning Bistro-Cafe as it was called in it's popular days.
"Ghost Investigation Team" on the Ghost Hunter's TV Series
Press / Media Photo: Patrick- Lead Ghost Investigator with orb around Michelle(Destiny Moon) on right.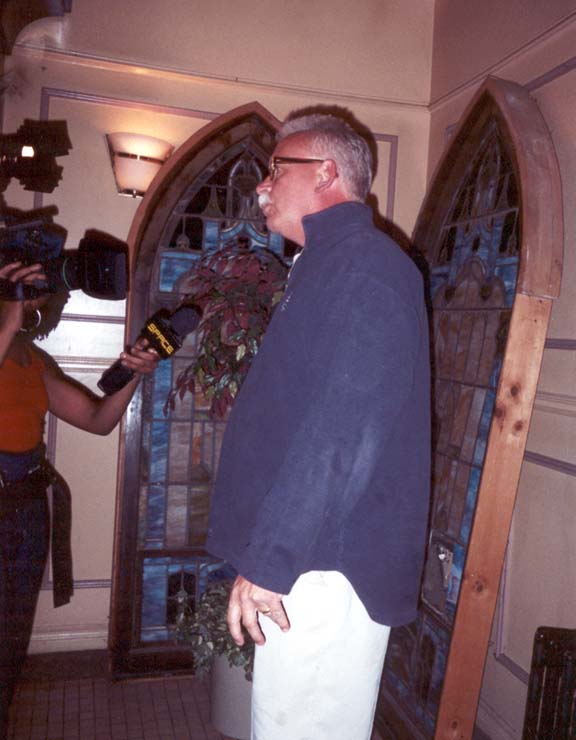 Kailin, owner of Emma's Restaurant confirms ghost activity in the restaraunt and the ghost of Emma is here. Notice a ghostly face of a woman appears with a 1920's style hat in the top left corner of this photo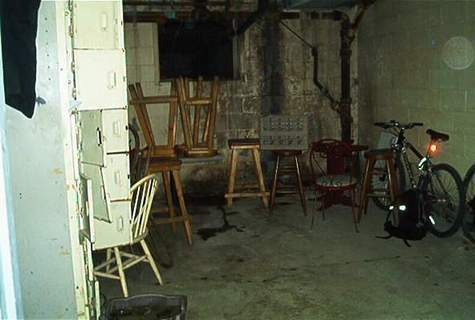 Rare photo of Emma's Basement with ghost orbs appearing around the old tunnel entrances that leads underground. We won't tell you where they go but it is Very Creepy! Also notice an apparition of a boy or child appearing at the tunnel entrance.(photo:Patrick Cross 2004)
Patrick Cross led a Ghost Investigation at Emma's Back Porch with Space TV-City TV
Space Imagination Station in July, 2001 which was videotaped and broadcast all summer and into the fall on the Space Road Odyssey, 2001 "Ghost Hunter's Series" Accompanying Patrick with the investigation was Psychics Michele and Kim from Hamilton and Psychic Researcher, Carolyn Bassell from Burlington Ghost Walks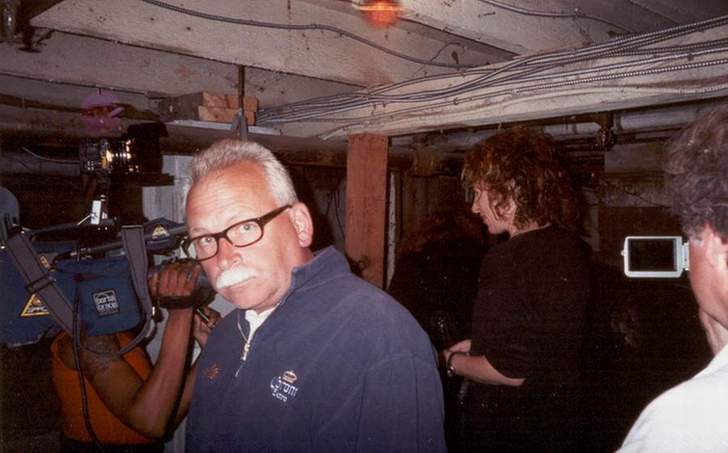 Emma's Back Porch, in basement with purple ghost "orb" above camera's filming with Space 2001 Road Odyssey.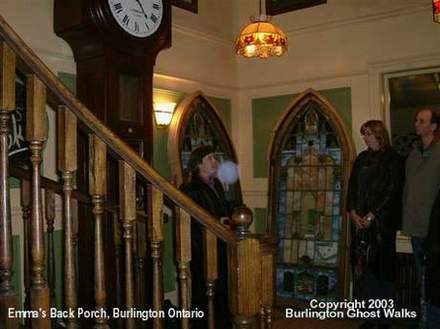 Kissed by a Ghost? Ghost orb appears almost on Patrick's face as if Emma herslf is kissing Patrick in this rare photo captured a ghost orb surrounding Patrick Cross-Host/oWNER of Burlington Ghost Walks. This area by and around the stairs is very active with ghosts and the ghost of Emma Byron who is known to appear on the top of the landing looking down at all who walk up the stairs to her dining room. Emma has appeared as a ghostly figure all in black just as she did when she was alive.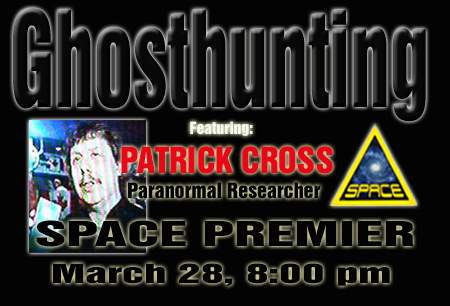 A Space Imagination Station World Premier
Ghost hunting Show was broadcast on March 2003 CITY TV Feature
*Featured on CREEPY CANADA Series - CTV Travel, Discovery Channel and OLN Network. This is episode #4. Hosts: Terry Boyle-Author of "Haunted Ontario" Books and Rob McConnell-The X-Zone Radio Program.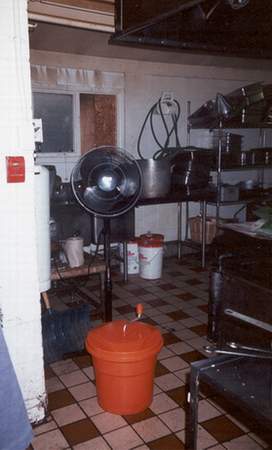 Located in the kitchen, this is the ghostly salad spinner (red bucket)that has many times started spinning on its own, even though staff would need 2 hands to turn it and start it up.
Many staff and visitors have seen and experienced ghostly things including faces appear in Emma's and especially down in the basement where the family of Emma's ghosts usually are. One person, Jeremy Jones-worked at Emma's 2 years ago and said he saw faces appear on the freezer doors, looking all frozen.He also said windows would get fogged up with a misty breath on the windows, even though no one else was around.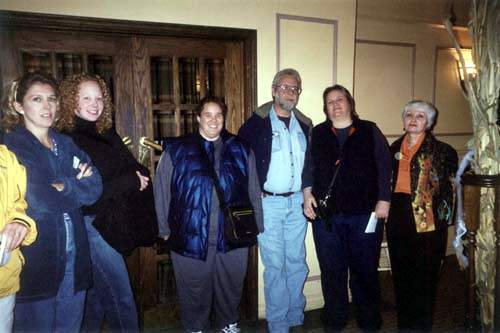 Some of the "ghost hunters" that came to the Ghost Tour at Emma's, Halloween Night, October 31st, 2001. *Notice the white ghost "orb" around the woman on far right, Laurel Haber, is the great grandaughter of Emma Byrens!

Click hand for Burlington Ghost Walks-Main Page
Check Out Emma's Back Porch for Great Food. Ghost Tours and Events of Emmas conducted by Patrick Cross-Founder/Director Ghost Host of Burlington Ghost Walks and Discovery Ghosts!
Click here for Ghost Photos
---
copyright 2001-2018 Patrick Cross-Paranormal Researcher-Official Burlington Ghost Walks. Discovery Ghosts!
Copyright Official Burlington Ghost Walks 2001-2018. No un-authorized reproduction without written permission. History information courtesy of Emma's Back Porch-Owners and Management. Ghost Investigations, Ghost Research, Stories, History and all Ghost Photo Credit: Patrick Cross 2018 Book information supplied by Terry Boyle's book-Marilyn At French River and Laurel Haber. Media and News Articles Burlington Post, Toronto Star, Space TV-City TV, Terry Boyle, City TV News hour, CHCH TV, CTV Travel, Hamilton Spectator copyright 2002-2018.If information from this website is used, please give proper credit: Patrick Cross-Burlington Ghost Walks 2018